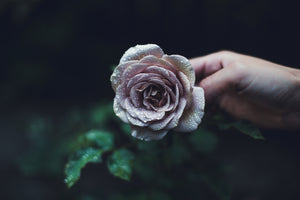 Meet
Onome & John
When Onome and I first met, one of the things we discussed was starting our own business. At the time, I was working as a research technician, processing HIV and cancer patient samples at a biomedical research lab in Frederick, Maryland, USA. After a personal setback — unrelated to my job — I re-assessed my future goals and aspirations. I knew I wanted to continue working in a biology-related field, but I did not know where to start.
During this period, Onome was working as a baker and still modeling from time to time. She was featured in magazines, music videos and even did ads for skincare. After a quick call, we soon realized we possessed a unique combination of education, skills, passion, and experience to 1.) understand the biology of aging and skin appearance and 2.) we had gained extensive knowledge and experience within the fashion and beauty industries through Onome's interests and professions.
Through time and careful planning, we finally took our first step towards achieving our goal, which is now Picasso Skin. We knew exactly what we wanted and needed to do, and I believe we did it. However, as Onome states, "Just because we accomplished one goal doesn't mean we can remain complacent. We have to keep moving forward. We have to keep improving."
Continued...
"This is our philosophy, where we've come from and where we are going. Over time we have created our identity and brand, built up an inventory, and are very excited to give others products that we use regularly and love. We hope anyone giving our products a chance will share the same joy and benefits that we reap when seeing the results we do. We truly care about people and hope it shows in our model of providing high quality, and beneficial products to those who want real, tangible results." - Onome
We are committed to continuous improvement and will always treat our customers like they are family. We stand for equality, honesty and transparency. Last but not least, we strive to always give back in life, whether it be to someone who helped us along the way, or by donating a portion of every sale to planting trees. This is who we are and we welcome anyone and everyone to join us.
A Name You Can Trust